History of Crystal Hearts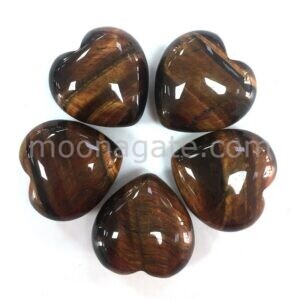 Everyone around the world knows that the heart symbol is the symbol of Love. The Heart shape is recognized as the main symbol of attraction, affection, and passion too. The connection of heart shape as a love symbol had happened in ancient times. The heart shape became very popular in the middle ages. A red heart symbol represents love, affection, sympathy, empathy, fondness, passion, and romance. The Heart shape crystals help to activate chakras because Wholesale Crystals' hearts have a deep purity, the strongest vibrations, and the perfect tool for chakras. Spiritual Therapist, Metaphysical Therapist, Crystals Healer guides examine that heart chakra is a center of chakras in the human body that's why heart chakra is perfect of emotions and represent the emotional and spiritual kernel of human beings. Many spiritual therapists consider it the center of the soul.
The attraction of people towards the Wholesale crystals stones, Wholesale Gemstone, and Wholesale agate stones are from before thousand years ago. People from ancient times and people of the new age era are so much fascinated by crystal stones. All Crystal Stones and gemstones have obtained surplus demand and make themselves the lead of demand in fashion and wellness. Because of their Shape Heart Shape crystals represent the natural beauty and increase love's energy, Care, Feelings, Sympathy, understandings, concern, humanity, kindness, And charity, etc.
We produce hearts shape crystals bulk from a huge range of different crystal stones and gemstones. We as crystal wholesale suppliers and our experienced workers hand-polished the bulk crystal hearts wholesale to conduct as much as the beauty and natural color of Crystal.
Rose Quartz Crystal Hearts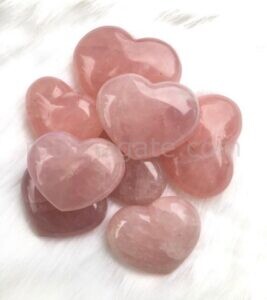 You should have to keep the Rose Quartz Crystal Hearts in your pocket whenever you want someone to attract towards you and get love. You can get them from our website to put them into your collections of crystals. Rose Quartz Crystal Hearts have the energy of love, Sympathy, passion, compassion, feelings, and peach. Wholesale Gemstone hearts are kind and wake up the heart chakra and unconditional love.
Rose Quartz Crystal Hearts are the symbol of Valentine's Day. You can Gift Gemstone Hearts on Valentine's Day to your love. Rose Quartz Hearts are perfect for Healing, Spirituality, and mediations. That's why it's perfect for spiritual supplies Wholesale and perfect for the mediation semester.
Benefits of Rose Quartz Crystal Hearts
You can carry the small piece of

Rose Quartz pocket puffy heart

in your pocket.

Useful in Display and decorate your work desk with medium size or large size

Rose Quartz Hearts

. 

You can put the

Rose Quartz Gemstone Heart

on your table beside your bed on a nightstand. 

And of course, you can keep the

rose quartz heart

in your palm while meditating. 

You can keep the

rose quartz heart

in your palm while Healing Semester.

You can keep the

Rose Quartz Heart

in the pocket of your shirt to make new lovable or business relations. 

Keep the

Rose Quartz crystal hearts

with yourself to attract new relationships in your life.
Moon Agate Export is a Leading Manufacturer, Exporter, and crystal wholesale suppliers.  We offer heart-shaped crystals bulk, Crystal hearts wholesale, Wholesale Gemstone Hearts in the USA at a cheap and affordable rate compared to the wholesale crystals market.